Intelligent High Value Consumable Cabinet
The RSSZY RS-HC003 series intelligent high value consumable cabinet is an advanced IoT intelligent equipment with independent intellectual property rights, developed through independent research and development of embedded software, upper computer operating system, and application of ultra-high frequency RFID, Al vision and other IoT technologies. It can be integrated with the medical university's intelligent SPD series software platform, run in a standalone or workstation mode, and can also be used in conjunction with third-party company SPD.
The RS-HC003 series is mainly used for intelligent access and settlement management of medications, high/low value consumable materials in hospital central warehouses, operating rooms, intervention rooms, and important clinical departments. It can be freely combined into workstations for use according to different application scenarios, reducing the risk of errors in the application process, ensuring safe and standardized use of consumable materials, providing one code traceability of consumable materials, greatly optimizing business processes, saving hospital staff time, and allowing them more focused on serving patients.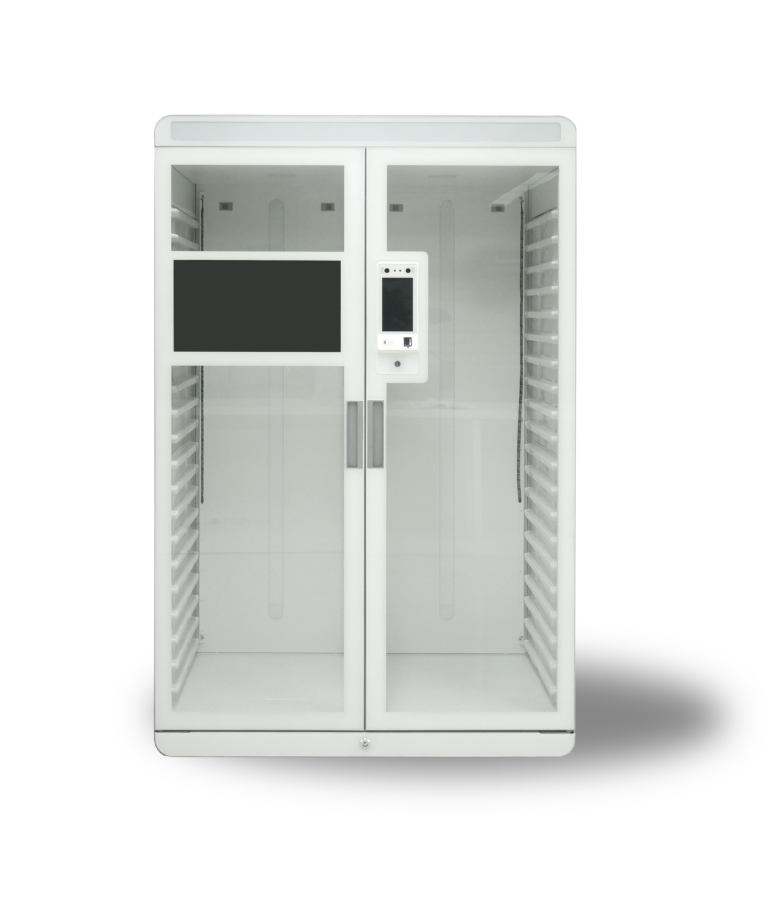 Human-computer interaction
High definition touch-screen, depending on the application scenario, high-definition tablet/fully transparent touch-screen can be selected. 270 all-round monitoring system. Equipped with gesture recognition control and voice intelligent reminder. Supports various authorized login door opening modes such as vein/ID card and facial recognition, and supports QR code scanning as well.
Ultra-High frequency RFID recognition
Industrial grade ultra-high frequency RFID reader and writer, capable of automatically identifying the type, quantity, and retrieval status of consumable materials in seconds. High safety, fully covered inside the signal cabinet which is tightly locked outside without leakage.
Cabinet performance
The 628L large storage space easily accommodates various specifications of high-value consumable materials. Human engineering mechanics layout, easy to access. Drawer type slot storage of consumable materials, energy-saving lighting system inside the cabinet, luxury version equipped with LCD screen for access guide.
Multi-dimensional humanized interaction
Friendly interactive system, from operational experience and performance improvement to scenario based design, brings smarter, more intelligent and powerful functions to the machine. The Al processing core and voice interaction make intelligent equipment smarter, more automatic and more powerful.