Strengths
1st

Patients do not need to wait for medication pickup

The equipment automatically receives prescription information, automatically performs medication dispensing, achieving zero waiting time for medication pickup.

2nd

Intelligent and convenient dispensing

The machine automatically dispenses medication packages, significantly reducing the workload of pharmacists and improving work efficiency.

3rd

Significantly improves pharmacy image

Centralized storage of medications improves space utilization, and rational layout of pharmacy optimizes pharmacy environment.

4th

Considerate and thoughtful medication services

Automated dispensing empowers pharmacists to provide effective medication services.

5th

The dispensing process is concise and clear

The system reads, analyzes, and processes prescription information, streamlines workflow, and improves dispensing efficiency.

6th

Significantly reduces errors

By using dispensing equipment to complete the medication allocation and distribution work of pharmacy that is prone to errors, human mistakes are greatly reduced and the accuracy of the overall process is improved.
Advantages
Pharmacy

Optimize process, improve environment

1

Pharmacist

Make up medication service efficiently

2

Patient

Quickly pick up medication, safely take medication

3

Management

Strive for lean management to reduce errors

4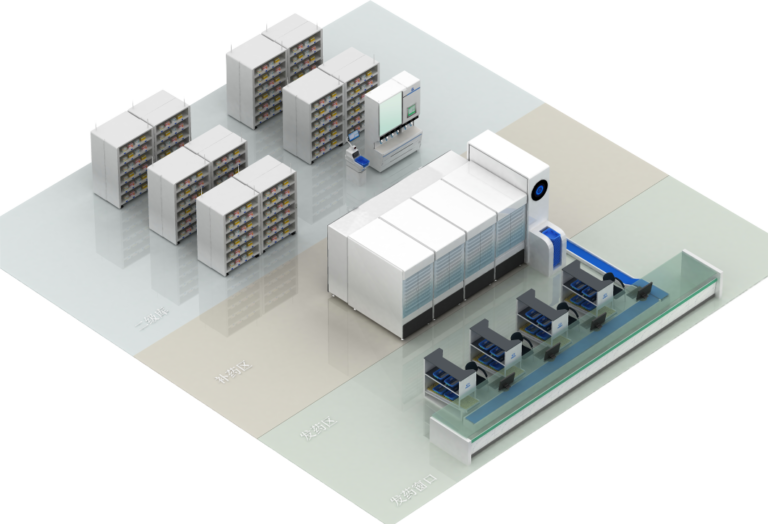 Pickup wrong medication caused by similar appearance and different doses of medications.
Deliver wrong medication caused by long walking distance and high work intensity.
Give wrong medication caused by similar names and unclear medication explanations.
High accuracy, high ratio of prescription completeness, and high degree of automation.
Let the pharmacists return to their job.
Strengthen the digitization and full process management of pharmacies.
Overall Introduction
Intelligent outpatient dispensing system realizes the intelligent management for medication storage, access, allocation and distribution process, improves work efficiency of the pharmacist, reduces the errors of every process as well in order to ensure the safety of patient's medication usage. RSSZY smart outpatient pharmacy automation is the chain-mode pharmacy automation total solution built up by the specialized team based on the intelligent equipment like outpatient dispensing system according to customer's requirements.
Pain Point
Advantage
RSSZY Features
Seamless connected and fully automated intelligent dispensing machine.
The dispensing process is complete and smooth, from finding medication to delivering medication to the window, the whole process is automtic without any manual intervention.
The intelligent transmission channel is seamlessly connected to the automatic medication basket granting system and windows, which can connect to all windows and process multiple prescriptions simultaneously. It can be tailored according to customer requirement and terrain.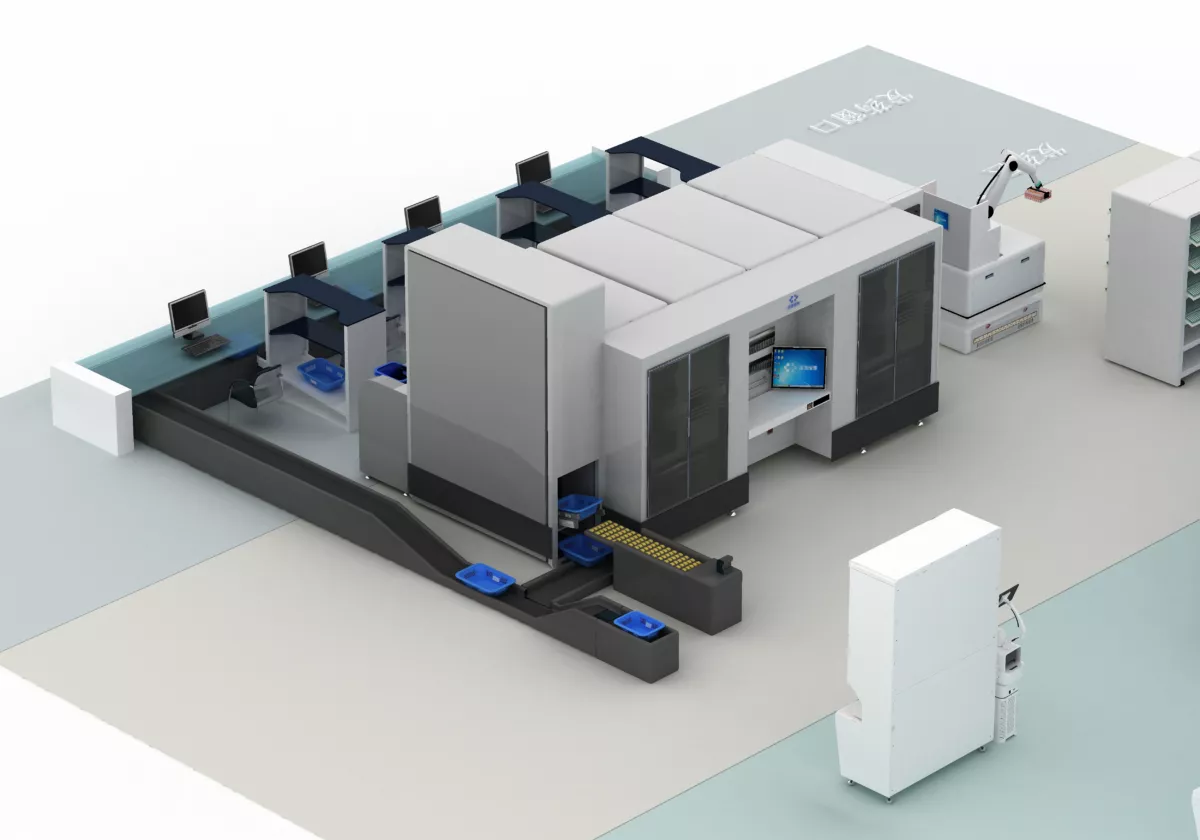 Horizontal Power-Driven Medication Slot
Shenzhen RSSZY adopts horizontal alignment for self-developed horizontal power-driven medication slot to enable the medication packages transmitted through belt with constant rate, avoiding package squeezing, therefore to improve package dispensing accuracy. The width of the medication slot is adjustable in order to store the packaged medications with various specifications and ensure high package loading ratio. Each horizontal power-driven medication slot can be controlled individually to realize multiple-package dispensing simultaneously. When accident occurs in one medication slot, the system can automatically shield this slot so as not to affect package dispensing of other slots.
In addition, it has solved such problems of traditional oblique slot as small prescription volume, unstable dispensing speed, proneness to dispense more or less, and low accuracy of dispensing.
. Medication slot is placed horizontally with dense package storage and high ratio of complete prescription.
. The medication package is transmitted horizontally by power via belt, dispensing rate is same for different types of medications, and accuracy is high.
. The medication package is placed vertically based on the narrowest side to avoid overlap, with high dispensing accuracy.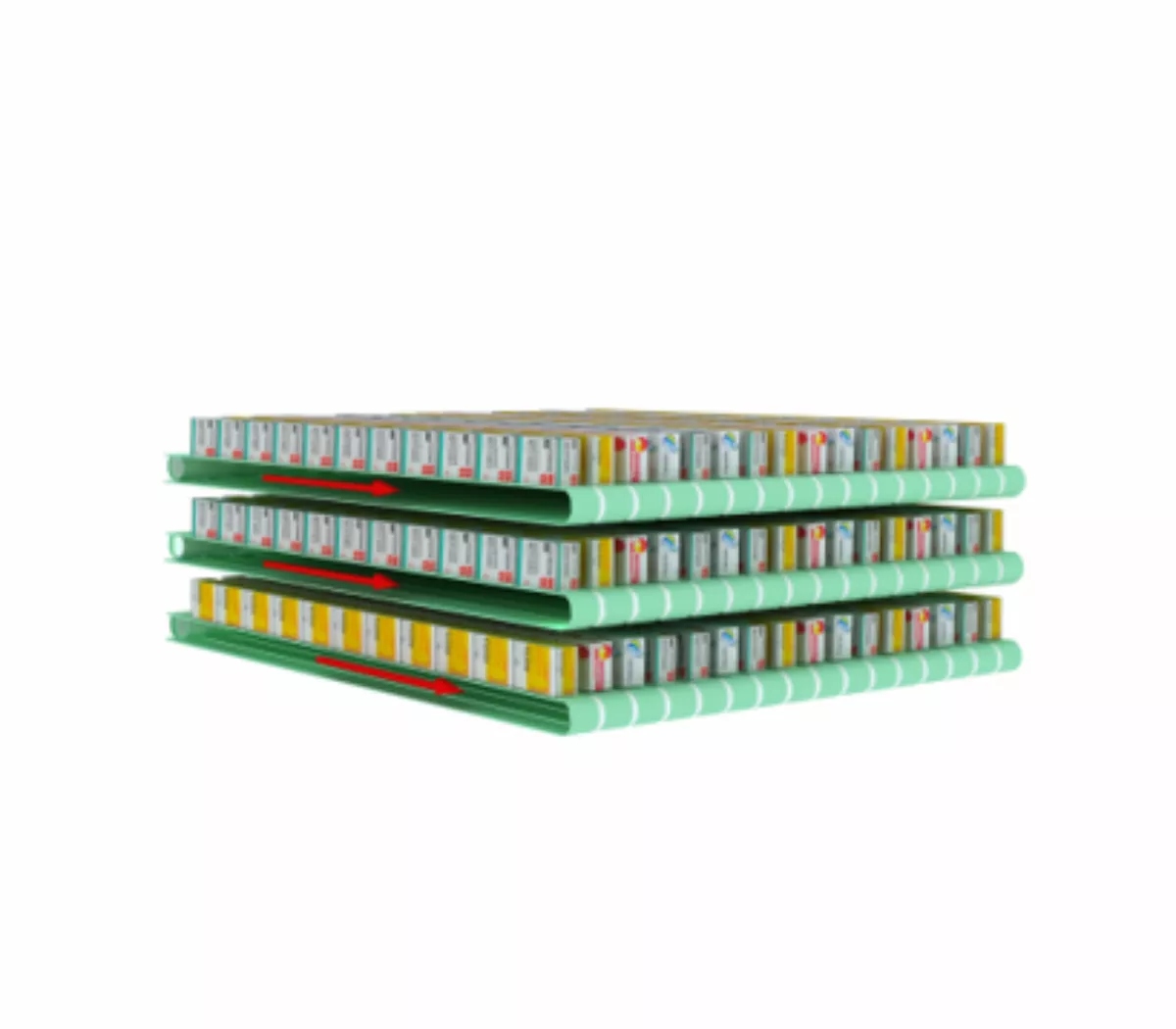 Modelar Design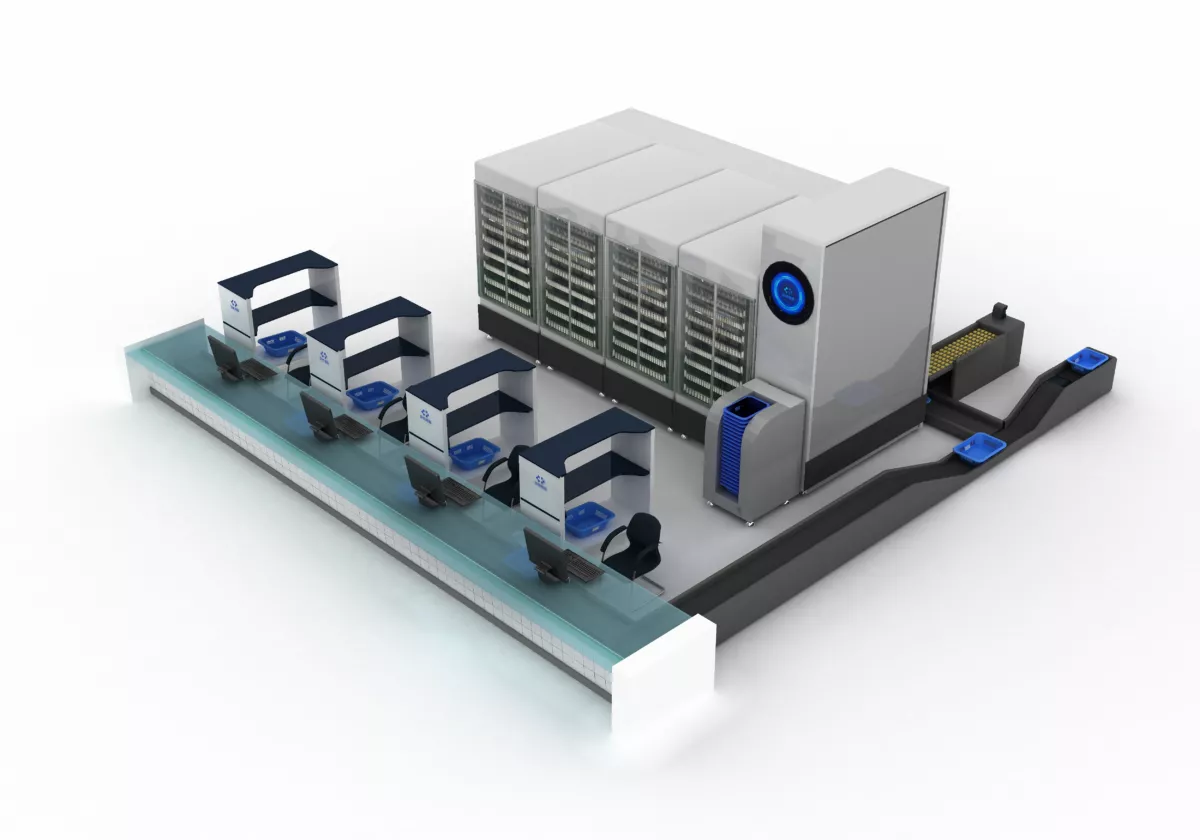 Personalized customization: can make professional solution configuration based on customer's requirements, in the mean time support future upgrading and increasing of unit medication cabinet.
Highest installation speed: complete system switch within 12 hours, without any effect on normal operation of existing hospital pharmacy.
The machine undertakes comprehensive testing before shipment. Modular assembly is applied on site, no need to install from components, ensuring the quality to achieve machine restored with "zero error".
Adopting welded cast iron process, sturdy and not easily deformed.
How to judge a good outpatient dispensing machine?
High efficiency and high accuracy

High automation degree

High ratio of complete prescription at one time

Has emergent solution